The Prime Minister's Science Media Communication Prize 2010
Science provides an adventurous life
Dr Cornel de Ronde considered being a professional footballer and an astronaut in his quest for the right career but it is science that has ultimately provided him with the adventurous life he was looking for.
Cornel's ability to communicate the wonders and mysteries of the work he does as a Principal Scientist with crown research institute GNS Science, has won him the 2010 Prime Minister's Science Media Communication Prize. He receives $50,000 with another $50,000 allocated for developing his science media communication skills.
The Prime Minister's Science Prizes were introduced in 2009 to raise the profile and prestige of science among New Zealanders. They combine recognition and reward, with total prize money of $1 million spread across five awards. The Science Media Communication Prize is awarded to a practising scientist and is designed to encourage effective communication that will inspire future scientists and connect New Zealanders to the importance of science.
Cornel, who is a marine geologist, researches the deep-sea and, more specifically, has been involved in surveying and studying around 150 submarine volcanoes. He says his passion for the discoveries to be made in one of the most remote places on Earth has motivated him to become a good communicator.
"The public has a large appetite for finding out more about the deep sea but very few people can get there to have a first-hand look. There is also a need to have good information that will help us make informed choices about valuable assets like the habitats and mineral deposits around the underwater vents we are researching."
He believes scientists who are spending taxpayer's money have a responsibility to explain what they do.
"More importantly, the things we are doing are exceptionally exciting, adventurous and important – the deep sea may well hold the answers for future generations' need for food, energy and mineral resources."
Cornel, who manages the multi-million dollar Mineral Wealth of New Zealand science programme, has helped create a new field of scientific research in New Zealand focused on the hydrothermal vents, or sea floor hot springs, associated with underwater volcanoes marking the Pacific Ring of Fire. His work has involved numerous international collaborations and the use of specialised submarines to collect and record information.
His work has allowed him to witness 'incredible phenomena' including eruptions, lakes of molten sulphur on the summits of volcanoes and vents discharging liquid CO2 into the ocean. He has also made many world-first discoveries such as new species of animals.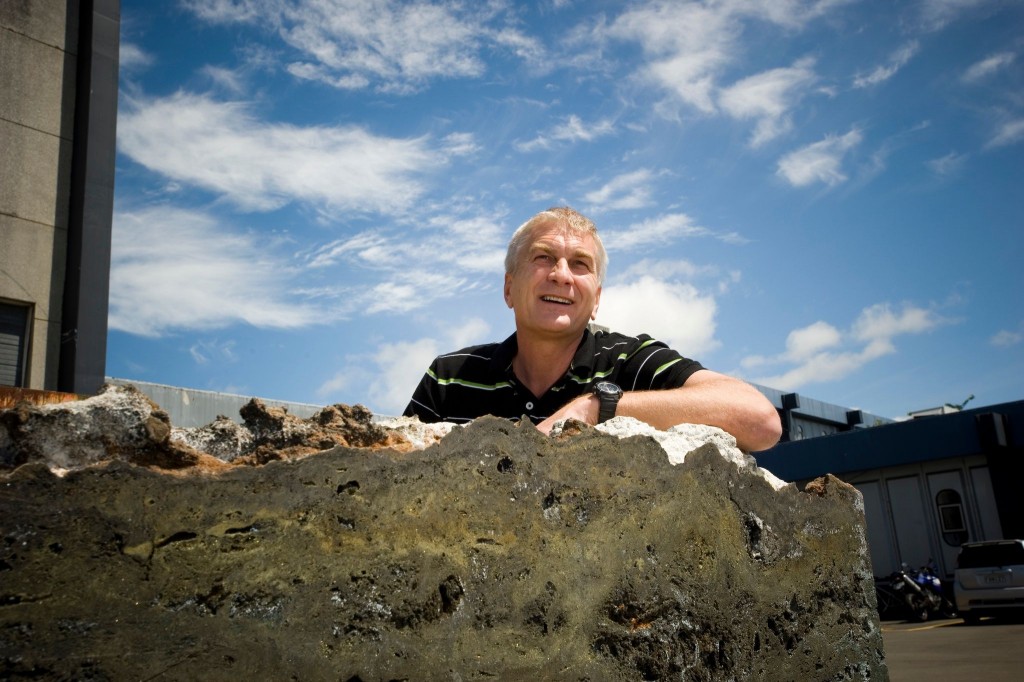 One of Cornel's current projects involves bringing two state-of-the-art AUVs (autonomous underwater vehicles) to New Zealand to search for evidence of the Pink and White Terraces geothermal system at the bottom of Lake Rotomahana near Rotorua. He is assisting with a documentary being made about the project.
Cornel wants to help change public perceptions about scientists.
"There is still a stereotype of the nutty scientist with crazy hair, coke-bottle-thick glasses and a white coat mixing up brews in a basement. I want to show young people that a career in science can be varied, thrilling and rewarding."
He will be using his prize money to gain more experience in producing and presenting his work in film and on television and acting as "a bridge" between science and the media.
"I'd like to make a contribution to the two-way conversation between journalists and scientists, helping each to better understand what the other does and encouraging more positive perceptions of science in the media.
"I can also learn from the media industry about how to better convey the science I am involved in and use that knowledge to promote science more effectively."